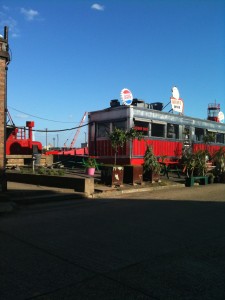 I've spent most of today following the Vocab Dance brief of starting with a seed, so long intros. What excites me about the live performance aspect is seeing/hearing the vocal artists improvise over the loops I've created. 
Here's some blurb about the piece: "Using dance theatre, music and spoken word, the mixed bill premieres brand new work 'Word!', a choreographic response to headlines around youth culture…."
I've included a sketch for today, I've written so many the last couple of days. This one's my favourite. Green light, red light, will it make it to performance or sit in my sketches folder for eternity? Regardless of the decision, I've had loads of fun, I bought some orchestral samples and messed with them a little.
meanders
It was great to travel down to Ipad dance centre and meet with dancers and artists, all the way to E14 in the heart of Trinity Buoy Wharf. It was great to be able to tweak pieces with dancers present, see their responses to sketches.
The opening section is fierce, if you get a chance to watch the performance I definitely recommend you go, I was blown away by the impact of dance and word. It's touring the UK with a Brum show.