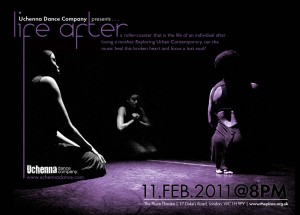 Been busy writing music for Uchenna Dance Company. The updated version is complete. The performance is this Friday at The Place, near Euston. I've enjoyed the process, it was a tiny bit stressful due to the fact we had NO time.
Dancers work in 8s, my piece was in 4, shouldn't be hard then, multiply by 2. Think again, I scratched my head umpteen times trying to get music and dance sections to flow. My counting has improved. A musician who can't count, yup, shocking. I think I was mesmerised by dance movement. I'd conjure sounds and ideas for the moves, oh and then, whoops, I'd lost my place! Well, I can now confirm to you dear readers, that I can count 39 rounds of 8 counts of music (78 bars of 4) without getting lost. (Should I be proud?)
I've had an amazing time and hopefully they'll be more dance collaborations to come.
This is what it sounds like: lifeafterforblog
(Afro, house-y in places, electro. I've tried to get rid of the vocals, some randomly left in)…
What's it about? Exploring the emotive responses of loosing someone you love.