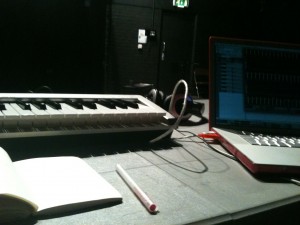 The pic above sums it up, I've been in a dark room, staring at and playing synths for the last few days, yup, I asked for it and it's happened, snowed under with work, I've even turned down a few projects!! I know!?! The other day I was bemoaning the hustle!
Loads of established freelancers advised me that 3 years is what it takes, and they were right! I do hope I won't be eating humble pie next term, what with this new government, I saw little on the Tory manifesto about arts and culture funding, gulp!
Anyroad, I've been workshopping loads, composing and playing synth for an experimental music project, a fusion of dubstep, asian sounds and percussion. The biggest challenge has been learning the MIDI parts, being in time with machine, you can't make eye contact with Ableton Live, but you can with the person triggering it I suppose.
I also had loads of fun writing songs and creating pieces for Birmingham Jazz's Creative Jam sessions, my favourite piece was in a 5/4 time signature, nice and funky. You can check iPhone footage here:
Here is the 5/4 piece.HodgeHillAnimal5:4