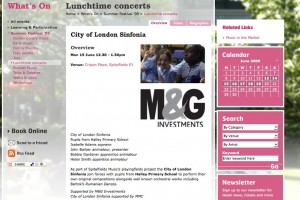 Yay!!! and phew!
Well done to Halley students year 2 all the way to 5 for their amazing Spitalfields Music performance today!! Boom tingalingding!!
It was great to hear my first chamber orchestra arrangement performed by such a top notch ensemble – CLS! Maybe my parts were to complex but it was my first time and I couldn't help but try and pack in loads of ideas… Learning curve ennit?
Here is the audio! Live from today's lunch time concert! Excuse my crap introduction – I hate speaking in front of peeps.
[audio: http://bobbiejanegardner.com/audio/Waggledancelive.mp3]
Well done to the team led by John Barber with soprano Issy Adams and fellow MAASer Helen Smith!