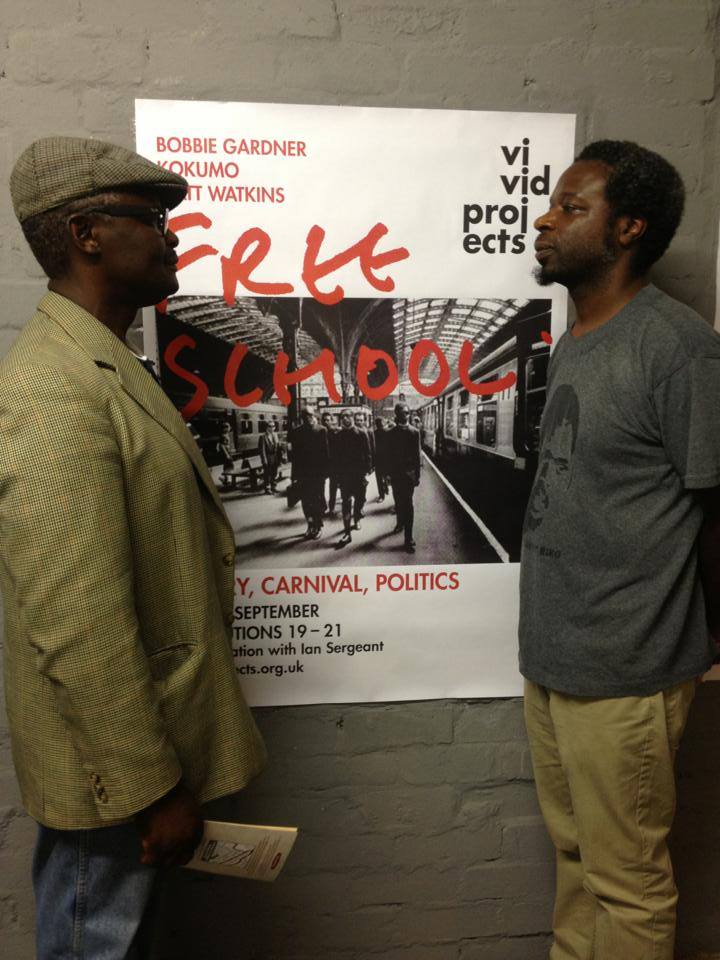 (Photographer Vanley Burke with curator Ian Sergeant)
'X' was revolution no. 20, under the Free School events curated by Ian Sergeant. It was inspired by an intriguing, enthralling and what John L. Williams calls a tragicomic story of black political activist Michael X.
Initially Ian Sergeant wanted a performance inspired by black British politics in the Midlands. Shamefully, knowing very little about black British politics I penned some ideas for an audio-visual performance, calling in artist and musician Matt Watkins to assist. Ian had just started reading the John L. Williams book and quite quickly his ideas changed…. Michael X became the focal point. I have to admit, I was resistant, having reservations because I was invested in the first idea, but once I read the biography it all made sense. I am glad Ian made that change!
Ian suggested Kokumo – a dub poet, enter the collaboration which made loads of sense due to Michael X's involvement in poetry. In the 11th hour, I decided I needed to expand the sound and brought on board the talents of Matt Eaton and Laurence Hunt from wrong pop legends Pram.  We used the three sections of Williams' book to inform our structure: three personas of our lead protagonist: Michael de Freitas, Michael X, Michael Abdul Malik.
If you watch the Adam Curtis 'The Story of Michael X' documentary available online, you will see the narrative reads very much like watching Crime Watch or Panorama; guy from Trinidad comes to England, hustles money out of bohemian upper class and celebrities, enters Black politics, incites racial hatred, is involved in the murder of the daughter of a Tory MP, ends up hanged.
The book is far more detailed in the events that made up Michael's life; for example, his life in the Norwegian navy, his mixed- race heritage and with that his ability to manoeuvre both intimate black and white circles, his charm, his wit, and the several crossroads he reached in life where he could have transformed his life in positive ways.
The performance of 'X' was a story told through words, images and music. We tried our best to portray Michael X in all his complexities.
I created a sequence of samples from various sources that could best elucidate the timeline of events. I wanted to trigger them manually because I am not a massive fan of staring at illuminated computer logos, but with playing keyboard, it proved too challenging for the time available so the machine (with black taped logo) was featured.
I also created loose structures for musicians to improvise around which was fun but a risk for a novice such as me.