Been delivering a fair amount of workshops this term, as well as being busy running new promotion Rea River Soul, last venture was a success, lots of great feedback – woop! The promotion game is a tiring one when you're work full time, most of us do and I shan't complain!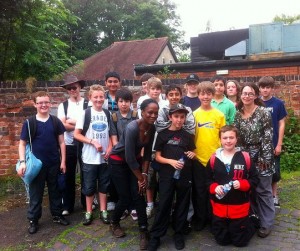 An eventful/Creative Partnerships project saw me back at Bishop Vesey's Grammar School, (they let girls in for A' level),  I didn't enjoy my time there to be honest, but working on this project gave me a new perspective on the place (some of the teachers are still there!! That's 14 years!! WTF!!) I ran social media sessions documenting a survival skills project, think Ray Mears meets web 2.0. Highlights were toasting marshmallows, firemen coming to Sutton Park – even though we informed them in advance about making fires (they were quite cute however) and working with some bright, lovely young people. I really miss my group.(Sniffle).
Also ran social media (and music sessions) for Paganel School – to help document their Scalextric project which was fun. I also created music for the final competition hosted at the Hippodrome.
Blogging hiccups throughout though, posterous doesn't have user hierarchies like wordpress and blogger, and wordpress is utter shite rubbish at embedding content it doesn't approve of, so no to easy embedding of audioboo.fm, dipity.com etc. 🙁 There were ways around it but still…. We also did some live streaming in Sutton Park – which you can watch here.
Now, after being outdoors and working mainly in schools, I am chained to my mac typing up evaluation forms for the soon to be no more Creative Partnerships. This is my procrastination, a happy one.