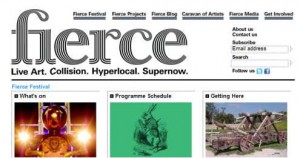 is on!
If you fancy yourself some culture and supporting curators championing arts in the city, best check out two festivals running concurrently this week. Fierce is all about live art, Flatpack is all about film – bringing it to unusual spaces.
Thanks for having mfg! play tunes at your launch party last night, we had fun and weren't those whisky drinks naughty!
Here are my choices for the week:
Today: Flatpack – Shadow Shows @ The Patrick Centre 19:30 – 20:30 £8/£6.
Thurs: Flatpack – Mothwasp – it's Matt's (beat 13) band, said I'd support/ Might peep this first, Shorts on Walls – Birmingham based animation @ The Dirty End. Both on 18:30 – 20:30 & Free entry.
Friday: Fierce – 14:00 From Queerfest to Fierce @ The Dirty End (chat about the festival itself)
Fierce – Human Salvage: a night of club performance – sounds crazy. 20:00 – 02:00
Flatpack – 18:00 Prostitue @ mac £6.50
Saturday: Fierce – Burningham @ Feast & Prayer @ The Old library – gonna listen to prayers
Flatpack – Vintage mobile cinema @ St Martins Church – Free entry 10:00 – 16:00
Rubber – about a psycho tyre which starts killing people. £6.50 @ Electric Cinema 19:00
Sunday: Welcome to the Jungle @ mac Hexagon, Free – documentary about punk, reggae and bhangra heritage in the city. 12:30pm