return of the money chronicles:
starting to sort my money mystery out, my previous address isn't listed/recognised so now that my mail is back at a stable address my credit score increased somewhat: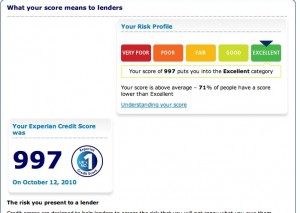 phew!
check with royal mail to see whether your address is on their system, if you have problems inputting/finding your address online when buying stuff for example contact them on: addressmaintenance at royalmail.com, they will update their system for you but…
"Our Postcodes on-line service at www.royalmail.com will reflect this within 48 hrs, (excluding weekends & bank holidays) although any correction to our
database could take several months to filter through to end users of Postcode Address File Data. Unfortunately, we have no control over how often external companies update their databases."
so there you go.
another discovery thanks to the lovely marjorie is this site, it's loads cheaper than creditexpert and shows all three of the major credit scoring agencies.
gonna wait a few months and see if i can move from my evil bank to a more ethical one, i wonder, and i'm certainly no finance expert, if everyone moved their money from the key players to ethical ones what would happen? my mum moved to an ethical bank this week, so proud! go mummy!