I spoke to my mum about my old piano (given to me at childhood); currently covered in cobwebs and black bags (don't ask), but the easiest option was to use my fella's MIDI controller attached to Garageband, couldn't be bothered to pair up with Logic, wanted a less heavy DAW, a basic piano sound was desired.
Some of the notes didn't work, but it still helped me to tinkle away. I feel loads more confident about modes, I over intellectualised something quite simple. I played through several modes in each key, mainly dorian and lydian, it helped a lot. Apparently every scale can be made into a series of chords.
Day 5: No practice, no excuse really, as the lovely Rachel said I could use her piano, but ran out of time to arrange this, however I spent some time learning about self-marketing.  Still a fail!
Day 6: Friday, all day workshops with a 6am start, had a little time to jam on the piano with Chris Bishop (see Paganel project), but failed again as I jumped on a train straight after to London. I saw the amazing blues, ngoni maestro Bassekou Kouyate perform at the Barbican, the music was amazing, crowd were dull – hardly any dancing! Booo! Bassekou's improvising is amazing, his music show's the origins of blues music and has an amazing stage presence. His wife has a beautiful voice, such power and playfulness! Loved it.
Day 7: Spent 3 hours practicing which included a chat with composer Sid Peacock about jazz theory. I went through progressions, realised I got some chords wrong, went through 2-5-1s again. I realised I had been confusing myself with trying to work out which scales to use, and relying too much on the key signatures. I'm getting better at spotting 2-5-1s in pieces, which means I know what initial scale to use, although there are plenty more to explore; baby steps.
Some great pointers from Sid were, practice with a metronome accenting beats 2 and 4, play 2-5-1s in a random order, get a teacher, check the improvisation primer and not get to bogged down with theory to start with, noodle. Thank you Sid!
Day 8: Using the advice from Sid, created 12 scraps of paper for each key, picked one randomly and practiced 2-5-1s.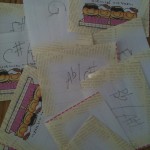 Played through "Tune Up", chords mainly and worked out how to play chords and melody. Tried to improvise, it sounded okay, but a bit dry. Need me some licks! Then played through some other pieces including yesterdays. All good, the louder I play the more confidence I get, but that's the problem, I'm worried about disturbing my neighbours, so am quite timid. "Headphones"! I hear you exclaim, yes, I will use 'em next time. Wounded that I'll be away from my keys for another week! I must get better at finding a piano in Brum!