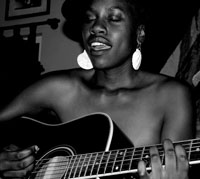 Hey bobablog readers!
Hope you are well and sun-kissed, the weather has been great! I implore Mother Nature to give us more of the same during the May – August months!! It's been a wee while since I have blogged and so, here I am. Rather than bore you to death with a long-winded post, I'll try and keep it succinct, I have:
• composed music for Uchenna Dance – and learnt loads about working with dancers, how many bars they work in, inspiration from movement; still got a ways to go, but onwards and upwards
• two thirds the way through "Banded About project", developing my ensemble leading skills – highlight was working with 'Fusion Warriors' at Wilkes Green primary school, what a cool name they chose! Got some feedback from my lil uns at Watville Primary:

(bored because she wanted to play a different instrument, I asked afterwards…)
• still working on my small business and the marketing side, ideally I want a balanced mix of composing/workshopping and playing work, getting there – marketing c'est roi.
• been enjoying reading Keri Smith books; 'This is Not a Book', is cool, I enjoyed ripping out a page whilst on the bus, at it told me to, the person sat next to me looked scared!
• learning loads about my natural hair – sensitive at times, militant and proud the next. I hated the comment 'Have you combed your hair today?", I liked the comment "Go on, empress!" – yes I am a nubian queen, Bobbie, Kemetian queen of Hackney!
• Oh, and, I am looking for any interesting programmes for musicians/composers/artists – I need me some more CPD, if you hear of any lemme know 🙂
• I'm going to learn guitar as recommended by Pete Churchill from Balsall Heath to benefit workshopping.
Actually this blog post is still quite long… What can I say? I lied!