Over the last couple of weeks I have been networking and pondering the community music world. I have also been in receipt of some excellent advice and guidance from some very generous people including Sara from Music in Prisons and Catherine Pestano from CRISP.
Although I had a fair idea of what community music was all about – I was not quite sure about the matrix of it all; its position and how to move around once inside. Dave Howard from Pure and Applied assisted in the breakdown – and drew a diagram not dissimilar to the one attached. I went away feeling better informed and clued up – I had gobbled the yellow pill.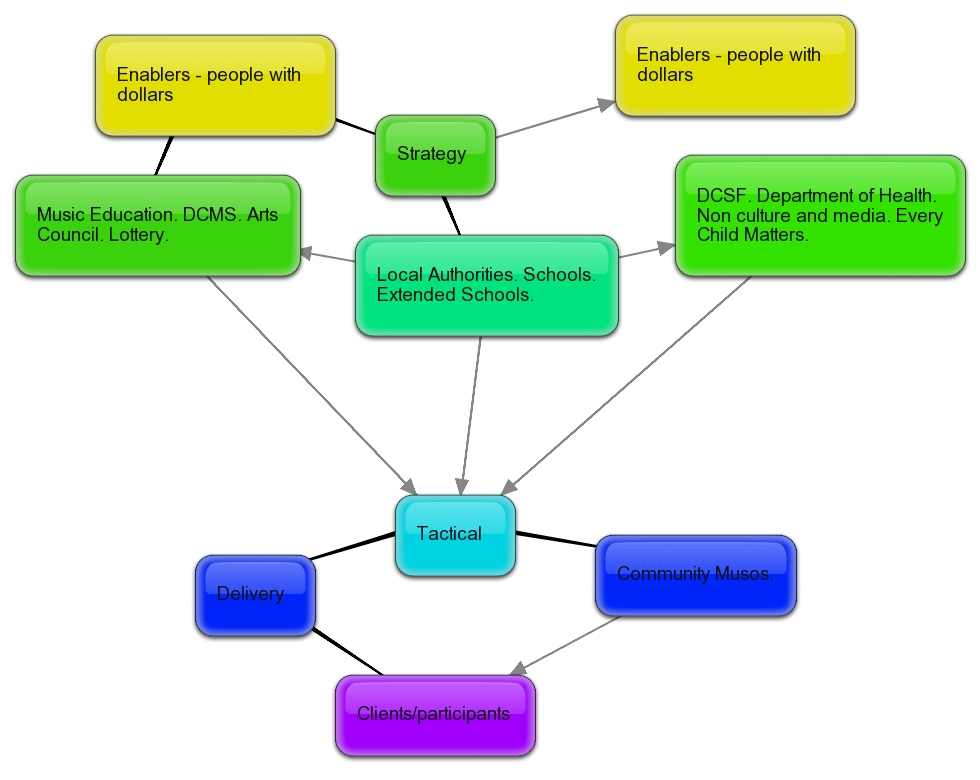 Firstly, I became very much aware that although I am at the bottom of the food chain – I am still very much important – grassroots peeps always are. I can also decide whether I want to move upwards and be more of a tactician/have more command over the projects I sell/devise, but that means becoming more conversant with strategy.
I realised that this was the first time the sector had been broken down to me in this way before. I love CPD, I have been on a few training courses but none had included this information – or had helped piece together the jigsaw; or maybe, I need to use my brain more!!
I also went to London for a Music Leader London Cultural Olympiad meeting. Guest speakers were Steve Mannix the Culture Programme Advisor and Sarah Barnwell – Creative Programme. During the course of the morning I learned loads about the aims of the Olympics – how it strives to be an Olympics like no other; inspiring change and capturing the imagination of young people worldwide.
So where does community music fit in? Well some of the major projects involved are music based – 'Sounds' led by the BBC is a bigee. Community music projects can also qualify/apply for an 'Inspire Mark' seal of Olympic approval for innovative, creative music projects. There was one heavily stressed bit of small print: to get the Inspire Mark projects must NOT be in receipt of commercial funding.
I enjoyed my half-term of discovery!