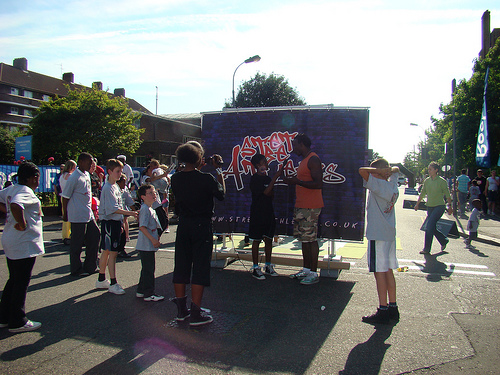 Blogging has been less frequent cos I have been mega busy- yippee!
I scored my first MediaSnackers gig on Sunday. I travelled down to Lambeth, South London to help train some friendly, young people from all over the UK. We equipped them with enough social media skills to become budding digital sports journalists. They will document a project called Street Athletics which is run by Linford Christie's management consultancy Nuff Respect and has the support of Darren Campbell. I quote:

"Street Athletics is a series of community focused events throughout the UK where all youngsters are invited to race against each other over 60m, giving them the chance to compete in the Grand Final in Manchester and win a year's kit contract with Reebok.
The ultimate aim is that all kids from all areas feel welcome to actively take part, providing the opportunity to broaden their existing horizons within sport and other non-sports related areas
Nuff Respect are working with Positive Futures, Reebok, Sport England, Sony, Gaz de France and local councils to run Street Athletics events in various areas of the UK.
We hope that it will encourage kids to utilise the sports facilities provided by the Council and ideally join a local Athletics club, or that the opportunity provides a trigger to kids to believe in their own abilities and they go on to be motivated in other non-sports related areas.'
I had a wicked time bonding and watching confidence levels grow as the young people involved got into the swing of blogging, vodcasting and using all the equipment.
I then went to Hammersmith and Fulham and supported 2 digital journalists as they documented the event. You can read their blog post here. It was staged in the area where Linford Christie grew up, right next to his old primary school.
Other exciting news: I will be going to Paris with one of our digital journalists to document the 2007 winners' trip to the Grand Prix de Paris Athletics event this month. Yay!